Professional Ductwork
You may have a new heating and cooling system but if your ductwork isn't functioning effectively, the whole system can feel off. If your ductwork needs work, rely on the professional HVAC team at Buffington Brothers Heating & Cooling to take care of the problem. Our trained professionals are experienced in assessing all issues and proposing a solution that fits your budget.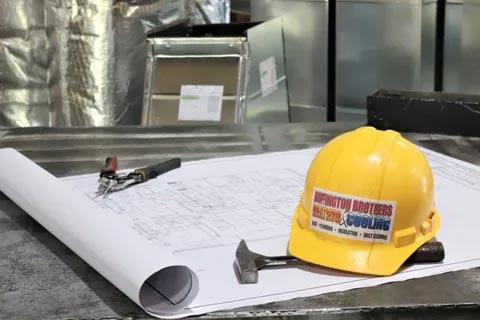 Do You Need Ductwork Maintenance?
Ductwork consists of the tubing and vents that distribute the conditioned air generated by your HVAC system. When these pathways are incorrectly installed or damaged, they can allow air leaks and insufficient operation, leading to higher energy bills and potentially greater damages if left unaddressed.
Buffington Brothers Heating & Cooling provides all types of ductwork and HVAC maintenance, including new ductwork installation, repairs and replacements, and professional ductwork cleanings. We take pride in our reputation for expert service and we're ready to work on your system as well.
Common Ductwork Issues
Dirty ducts. Dust buildup in ductwork is unavoidable, but when ductwork becomes so heavily dirty that the buildup interferes with your system's performance, it's time for a duct cleaning. This will save your lungs and your energy bills.
Leaking ducts and/or poor airflow. If you keep adjusting your thermostat only to find that a room or two doesn't heat or cool the way you would expect, you may have a ductwork problem.
Bad ductwork design or installation. Depending on the products, the layout and the final execution, there could be a myriad of problems with your ductwork.
Contact Us Today for Your Free Consultation
Don't delay fixing any damage to your ductwork. Call Buffington Brothers Heating & Cooling today at (573) 785-6768 or submit the online form to get started.